ACM/IEEE HRI 2022 Workshop on Modeling Human Behavior in Human-Robot Interactions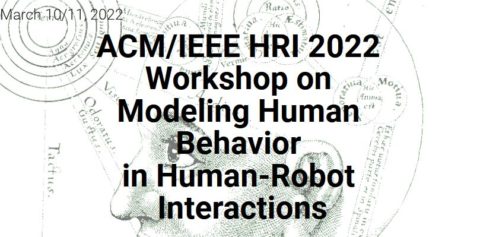 Philipp Beckerle organizes a workshop on human behavior modeling as a part of ACM/IEEE 2022 International Conference on HRI together with Arkady Zgonnikov, Serge Thill, and Catholijn Jonker.
The workshop will include keynote talks from Dorsa Sadigh, Tamara Lorenz, Randy Gomez, and Olivia Guest, as well as interactive brainstorms, contributed talks & posters. You can participate by pitching your vision on bridging HRI and human behavior modeling, or by presenting a poster on recent empirical work on human modeling in HRI. Submissions for a short position paper or an extended abstract are open until February 7th.
For more information visit the workshop website: https://modelinghri.com