Implementation of a sensor glove for human-robot interaction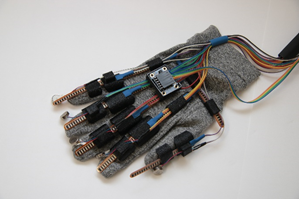 Sensor gloves are gaining importance in tracking hand and finger movements in virtual reality applications as well as in scientific research. They introduce an unrestricted way of capturing motion without the dependence on direct line of sight as for visual tracking systems. With such sensor gloves, data of complex motion tasks can be recorded and used for modeling probabilistic trajectories or teleoperation of robotic arms.
Further information can be found here.
Please always refer to both supervisors when reaching out to us.
Research Associate
Department of Electrical-Electronic-Communication Engineering
Chair of Autonomous Systems and Mechatronics
Research Associate
Department of Electrical-Electronic-Communication Engineering
Chair of Autonomous Systems and Mechatronics